Tamara Falicov
---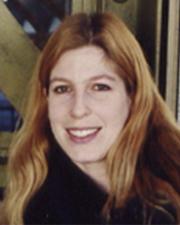 Professor
Associate Dean for Research in the Arts and Humanities, College of Liberal Arts and Sciences
Contact Info
Summerfield Hall, room #124C

Summerfield Hall, room #1300 Sunnyside Avenue, Suite 230

---
Biography
—
Tamara Leah Falicov is a professor of film studies and has worked at the KU since 1998.
She received her doctorate in Communication from UC San Diego, where she wrote a dissertation on state cultural policy in relation to the contemporary film industry in Argentina. She also received a degree in sociology from UC Berkeley. She received a Fulbright student research award to study the film industry in Buenos Aires, Argentina for the 1997-98 academic year.
Professor Falicov's specialty is Latin American Cinema, with particular focus on the film histories of Argentina and Cuba. A newer field of interest is the increased importance of global film festivals and how these platforms for exhibition and potential distribution enable Latin American filmmakers to make inroads into the global market. Her research has appeared in the following journals: Studies in Latin American Popular Culture, Southern Quarterly, Canadian Journal of Communication, Media, Culture, and Society, Framework, and Film and History. She has authored a chapter on Argentine blockbuster movies for the anthology Movie Blockbusters, edited by Julian Stringer (Routledge, 2003).
Professor Falicov's book, The Cinematic Tango: Contemporary Argentine Film (London: Wallflower Press) was published in April 2007. The book has been named an "Outstanding Academic Title" by the premier source of reviews of academic books, electronic media and Internet resources for higher education. It is listed in the film category by Choice: Current Reviews for Academic Libraries.
She has researched numerous topics such as the Ibero-American film production fund Programa Ibermedia and issues related to multi-country co-production, the role of Hollywood in Latin American film production, young videographers in Patagonia who are creating a vision of the land not normally portrayed in Patagonia, Argentina, the film industry in Uruguay, and US-Argentine film exchange relations under the Good Neighbor Policy.
She has written reference essays for the Encyclopedia of Censorship, the International Encyclopedia of Films and Filmmakers, the Encyclopedia of Documentary Film, the Encyclopedia of Slave Resistance and Rebellions, the Encyclopedia of Latin American History and Culture, The Borderlands: An Encyclopedia of Culture and Politics on the U.S.-Mexico Divide and the Encyclopedia of US-Latin American Relations, 2013.
Professor Falicov co-edited two special themed journal issues: One on translated essays from Latin American countries with smaller film industries entitled "Small Cinemas" in Studies in Hispanic Cinemas with Jeffrey Middents, and a forthcoming special issue of Transnational Cinemas co-edited with Sarah Barrow on post-national Latin American Cinema and Film Festivals.
Professor Falicov has received numerous awards for her research. She spent one month as a Rockefeller Humanities Fellow at the University of the Republic in Montevideo, Uruguay. In addition, she received a grant to study at the Rockefeller Archives in Sleepy Hollow, NY and a Big XII Faculty Fellowship to visit UT-Austin and use the Benson Latin American Studies Library.
Professor Falicov received an NEH Summer Stipend in 2002 to finish her manuscript and visit the National Archives in Washington DC and more recently, an NEH Summer University Teacher's Institute to São Paulo, Brazil to study Brazilian urban fiction, film, and language in Sao Paulo, Brazil, 2010.
Professor Falicov teaches courses in Latin American Cinema, Cuban Film, and a graduate seminar in the Political Economy of Film and Television Industries, Cinemas of the Southern Cone: Argentina, Chile, Uruguay, and Basic Video Production.
In the Fall of 2003, Falicov took the first group of KU students on a Study Abroad trip to Havana, Cuba, for the Festival of New Latin American Cinema. In Summer of 2004, she accompanied KU faculty to Havana to explore possible academic exchange and collaboration.
Professor Falicov was awarded a sabbatical and a Hall Center for the Humanities Research Fellowship for the 2006-07 year. She is completing her second book entitled Latin American Film Industries for the international screen industries series for British Film Institute/Palgrave Macmillan.
Other interests include participation in the the Society for Cinema and Media Studies Film Festivals SIG, the Latino/a Caucus, and the Kansas City Film Society Board of Directors. She is on the Argentine Film Society's conference board (ASEACA) and on the advisory board for the Brazilian film journal Rebeca, and the Colombian journal Revista Clave.
Her manuscript, Latin American Film Industries (2019) was published by British Film Institute/Bloomsbury Publishing
Education
—
Communication, University of California, San Diego, 1999, La Jolla, CA
Research
—
Research interests:
Latin American film industries
Argentine cinema
co-productions
Cuban cinema
film festivals
Political Economy of Film and Television Industries, film festival research
Selected Publications
—
Falicov, Tamara L. Latin American Film Industries. Edited by Michael Curtin and Paul McDonald, British Film Institute (BFI)/Bloomsbury Academic, 2019.Falicov, Tamara L. "Falicov T.L. (2018) Diversifying Public Film Funding Policies in Latin America. 
." Murschetz P., Teichmann R., Karmasin M. (Eds) Handbook of State Aid for Film. Media Business and Innovation. Springer, Cham, edited by Paul Murschetz, 2018.Tamara L. Falicov. "The Interlocking Dynamics of Domestic and International Film Festivals: The Case of Latin American and Caribbean Cinema ." Routledge Companion to Latin American Cinema, edited by Marvin D'Lugo et al., Routledge , 2017, pp. 266–78.Falicov, Tamara L. "'Film Funding Opportunities for Latin American Filmmakers: A Case for Further North-South Collaboration in Training and Film Festival Initiatives.'" A Companion to Latin American Cinema, edited by Stephen Hart et al., Blackwell-Wiley, 2017, pp. 85–98.Falicov, Tamara L. "'The Festival Film': Film Festival Funds as Cultural Intermediaries." Film Festivals: History, Theory, Method, Practice, edited by Marijke de Valck et al., Routledge, 2016, pp. 209–29.Falicov, Tamara L. The Cinematic Tango: Contemporary Argentine Film. Wallflower Press (Distributed by Columbia University Press), 2007.
Selected Presentations
—
Falicov, T. (5/25/2017). "Central American (and Paraguayan) Cinema: Artisanal and DIY Approaches". International Communication Association Annual Conference. San Diego, CAFalicov, T. (11/23/2016). "Researching Film Festivals: The Case of Cine en construcción" Invited lecture at the University of Nantes (France) School of Foreign Languages. University of NantesFalicov, T. (8/23/2016). Programa Ibermedia: ¿Cine Transnacional Ibero-Americano o Relaciones Públicas Para España?. Academic seminar, "Co-productions" at the 14th annual Colombian film festival in Medellin, Colombia. Medellin, Colombia. http://www.festicineantioquia.com/index.php/32-festicine/info-festicine…
Awards & Honors
—
Bernadette Gray-Little "Expanding the Reach" Award
Emily Taylor Women's Center
2018Docking Young Faculty Scholar
Docking Family scholarship
2013 - 2016CHOICE Outstanding Academic Title
2008Carlos and Guillermo Vigil Prize
1999
Grants & Other Funded Activity
—
Internationalizing the Curriculum Grant. Office of International Programs. (12/31/2016). University (KU or KUMC). Status: Funded. To develop new course on Global Film Festivals as an undergraduate seminarTerra Foundation Travel Stipend. To attend the symposium "Picturing the Americas" at the Crystal Bridges Museum, Bentonville, AR, Nov. 13-14, $300. (11/30/2015). Foundation. Status: Funded