Alcides Velásquez Perilla
---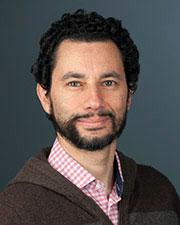 Biography
—
Alcides Velasquez (Ph.D. Michigan State University) is an assistant professor in the Department of Communication Studies at the University of Kansas. His research focuses on political uses of social media, including social media political expression and activism; and on digital divide issues.
Research
—
My research program is focused on one hand, on understanding social and political participatory uses of communication technologies, such as social media, and their individual and collective outcomes; and on the other hand, I have focused on studying the relationship between different access characteristics, meaningful uses of information and communication technologies, and the potential beneficial outcomes of these uses in disadvantaged population contexts.
Research interests:
Social media
Political Communication
Digital Divide
Social media political expression
Teaching
—
I teach courses related with communication technology, including mobile communication, social media and the Internet. Given my research interest in online political communication, I also teach courses related with political communication.
Teaching interests:
Communication and technology
social media
political communication
Selected Publications
—
Velásquez, A., & Rojas, H. (2017). Political expression on social media: The role of communication competence and expected outcomes [Journal Articles]. Social Media and Society, 3(1). https://doi.org/10.1177/2056305117696521
Velásquez, A. (2014). Construcción de escalas de medición de activismo individual y colectivo en línea [Book Chapters]. In Movimientos sociales e Internet (pp. 237–258). Editorial Pontificia Universidad Javeriana.
Velásquez, A. (2014). Digital divide and online citizen-government interaction in Colombia [Conference Proceedings]. In Proceedings of the 8th Communication Policy Research in Latin America Conference (CPR-LATAM).
Velásquez, A. (2012). Social media and online political discussion: The effect of cues and informational cascades on participation in online political communities [Journal Articles]. New Media & Society, 14(8), 1286–1303.