Elizabeth MacGonagle
---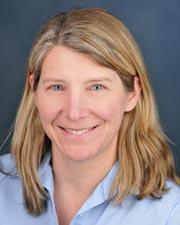 Associate Professor
Director, Kansas African Studies Center
Contact Info
Wescoe Hall, room #3650

Bailey Hall, room #203c

---
Biography
—
Elizabeth MacGonagle is an African historian in the Departments of History and African & African American Studies. She is the Director of the Kansas African Studies Center.
Research
—
In her research, she crosses historical, geographical, and theoretical boundaries to link nation, culture, and ethnicity to processes of identity formation in African and Diasporan settings. Her first book, Crafting Identity in Zimbabwe and Mozambique, examined four centuries of history from 1500–1900 in the Ndau region of southeastern Africa to challenge popular notions about tribalism. She speaks Portuguese and Shona (Ndau). Dr. MacGonagle is currently engaged in analyzing intersections between history and memory at several African sites of memory central to the heritage of slavery. She has received grants from Fulbright, Fulbright-Hays, the Social Science Research Council, and the American Philosophical Society, among others, to support research in Mozambique, Zimbabwe, South Africa, Ghana, and Portugal. Dr. MacGonagle collaborated with Ken Lohrentz (KU Libraries) to digitize a portion of the Onitsha Market Literature collection held at KU's Spencer Research Library. Selections of this popular Nigerian literature, along with a companion website, are on the Internet at http://onitsha.diglib.ku.edu/.
Research interests:
History
Africa
African History
Mozambique
Zimbabwe
Shona
Ndau
Portuguese
Luso-Africa
South Africa
Memory
Heritage Studies
Teaching
—
Prof. MacGonagle's undergraduate course offerings include surveys of African history, a seminar on sexuality and gender in African history, a course on the liberation of southern Africa, and a seminar on memory in global perspective. At the graduate level, she teaches seminars in both African Studies and African history. In 2007 she received the ING Excellence in Teaching Award at KU. She was a Co-director of a humanities lab, ColLAB, in 2017-2019.
Teaching interests:
African history
African Studies
Memory and history
Selected Publications
—
Ghazali, Marwa, and Elizabeth MacGonagle. 2016. "In the Wake of a Midwestern Terrorism Plot." Periodicals (newsletter, magazine, etc.). The Huffington Post. http://www.huffingtonpost.com/entry/in-the-wake-of-a-midwestern-terrorism-plot_us_58272805e4b060adb56ea0c1.
MacGonagle, Elizabeth. 2016. "History and Memory in an African Context: The Case of Robben Island." Book Chapters. In Area Studies in the Global Age: Community, Place, Identity, edited by Edith Clowes and Shelly  Jarrett Bromberg, 53–64. De Kalb, IL: Northern Illinois University Press.
MacGonagle, Elizabeth. 2013. "Mozambique." Web Publishing (article, blog, etc.). Oxford Bibliographies Online: African Studies. http://www.oxfordbibliographies.com/view/document/obo-9780199846733/obo-9780199846733-0035.xml.
MacGonagle, Elizabeth, and Kim Cary Warren. 2012. "'How Much for Kunta Kinte?!': Sites of Memory and Diasporan Encounters in West Africa." Book Chapters. In African Hosts and Their Guests: Cultural Dynamics of Tourism, edited by Walter Van Beek and Annette Schmidt, 75–102. Rochester, NY: James Currey.
MacGonagle, Elizabeth. 2012. "Imagining the Past at Great Zimbabwe." Book Chapters. In Remembering Africa and Its Diasporas, edited by Audra Diptee and David V. Trotman, 85–100. Trenton: Africa World Press.
MacGonagle, Elizabeth. 2008. "Living with a Tyrant: Ndau Memories and Identities in the Shadow of Ngungunyana." Journal Articles. International Journal of African Historical Studies 41 (1): 29–53.
MacGonagle, Elizabeth. 2007. Crafting Identity in Zimbabwe and Mozambique. Books. Rochester, NY: University of Rochester Press.
MacGonagle, Elizabeth. 2006. "From Dungeons to Dance Parties: Contested Histories of Ghana's Slave Forts." Journal Articles. Journal of Contemporary African Studies 24 (2): 1–12.
MacGonagle, Elizabeth. 2003. "Onitsha Market Literature: From the Bookstalls of a Nigerian Market." Web Publishing (article, blog, etc.). http://onitsha.diglib.ku.edu.
MacGonagle, Elizabeth. 2001. "Mightier than the Sword: The Portuguese Pen in Ndau History." Journal Articles. History in Africa 28: 169–86.
Awards & Honors
—
ING Excellence in Teaching Award $1,000
Lawrence campus, University of Kansas
2007
Grants & Other Funded Activity
—
Cultivating Global Citizenship in the Heartland: The Kansas African Studies Center. 42202. Us Department Of Education. $1140000.00. (8/15/2018 - 8/14/2022). Federal. Status: Funded
Cultivating Global Citizenship in the Heartland: The Kansas African Studies Center. 45816. Us Department Of Education. $916000.00. (8/15/2018 - 8/14/2022). Federal. Status: Funded
Cultivating Global Citizenship in the Heartland: The Kansas African Studies Center. P015B140073. U.S. Department of Education, Foreign Language and Area Studies (FLAS) Program. $990000.00. Submitted 6/1/2014 (10/2/2014 - 8/31/2018). Federal. Status: Funded
Engaging Communities for the Common Good: Stories about Migration in the Public Square. National Endowment for Humanities. $140811.00. Submitted 6/24/2015 (1/1/2016 - 12/31/2016). Federal. Status: Funded
Humanities Research Fellowship. Hall Center for the Humanities. Submitted 11/1/2014 (1/1/2016 - 5/31/2016). University (KU or KUMC). Status: Funded
Franklin Research Grant. American Philosophical Society. $5000.00. (6/1/2005 - 7/31/2005). Not-for-Profit (not Foundation). Status: Funded
Fulbright Scholar Program. Lecturing Award, University of Iceland, Reykjavík. $9900.00. (12/31/2004). Federal. Status: Funded
Digital Library Initiative Development Grant. Information Services, University of Kansas. $7100.00. (12/31/2003). University (KU or KUMC). Status: Funded