BRIAN ROSENBLUM
---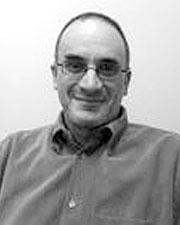 Co-Director, Institute for Digital Research in the Humanities
Librarian
Co-Director, Institute for Digital Research in the Humanities
Contact Info
Watson Library, room #450

---
Biography
—
Brian Rosenblum is a Librarian at the University of Kansas Libraries (http://lib.ku.edu) where he currently serves as director of KU's Institute for Digital Research in the Humanities (http://idrh.ku.edu). He has responsibility for administrative, production and outreach activities in support of a variety of digital initiatives and publishing services. Prior to joining KU Libraries' digital initiatives program in 2005 he worked at the Scholarly Publishing Office at the University Library, University of Michigan (now Michigan Publishing: http://www.publishing.umich.edu/) where he helped develop electronic journals and digital scholarly projects.
Selected Publications
—
Rosenblum, B. (2018). ROSENBLUM, BRIAN. Sprinting Toward Faculty Engagement: Adopting Project Management Approaches to Build Library-Faculty Relationships. Project Management in the Library Workplace.
Rosenblum, B. (2016). ROSENBLUM, BRIAN. Co-piloting a digital humanities center: a critical reflection on a libraries-academic partnership. Laying the Foundation: Digital Humanities in Academic Libraries (Purdue University Press).
Rosenblum, B. (2015). ROSENBLUM, BRIAN. Collaboration and co-teaching: librarians teaching digital humanities in the classroom. Digital Humanities in the Library: Challenges and Opportunities for Subject Specialists. Association of College and Research Libraries.
Rosenblum, B. (2011). The Faces of Haiti: Resolute in Reform, Resistance and Recovery.
Rosenblum, B. (2011). A Report on Library-Museum collaboration at the University of Kansas.
Rosenblum, B. (2010). Report on Open Repository Development in Developing and Transition Countries.
Selected Presentations
—
Project Management: Running Further Together - Keystone DH Conference. Location: Philadelphia, PA. (7-13-2017).