Lua Kamal Yuille
---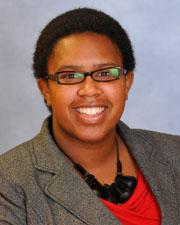 Contact Info
Green Hall, 315B
Lawrence
1535 W. 15th Street
Lawrence, KS 66045
---
Biography
—
Lua K. Yuille joined the KU Law faculty in August 2013. Prior to her arrival, she was a William H. Hastie Fellow at the University of Wisconsin School of Law and acted as visiting professor at the University of Oregon School of Law. Before entering academia, Professor Yuille was an associate at Cleary Gottlieb Steen & Hamilton LLP in New York, where she developed a diverse generalist practice that emphasized Latin American corporate matters and domestic mergers and acquisitions, capital markets and securities transactions. She also maintained a robust pro bono immigration litigation practice.
Professor Yuille received her J.D. from Columbia University School of Law, where she was one of two undergraduate students in the nation chosen to begin law school in the Advanced Interdisciplinary Legal Education (A.I.L.E.) Program. She earned an undergraduate degree, with honors, from The Johns Hopkins University and a graduate diploma in international studies from the Paul H. Nitze School of Advanced International Studies (SAIS), Bologna Center. After law school she also served as a law clerk for Judge Dorothy W. Nelson of the U.S. Court of Appeals for the 9th Circuit and worked as a socio-economic development lawyer in Latin America.
Education
—
J.D. in Law, Columbia University, 2004, New York, NY
B.A., John Hopkins University, 2003, Baltimore, MD
Research
—
Intersection of property theory, business law, and group identity
Research interests:
Property Theory
Identity
Law and Economics
Pedagogy
Business Law
Teaching
—
Business Associations, Corporate Governance, Immigration, Property
Teaching interests:
Property
Securities Regulation
Business Organizations
Corporate Governance
Land Use
International Business Transactions
Contracts
Civil/Human Rights
Immigration Law
Selected Publications
—
"Love as Justice," The Langston Hughes Review (forthcoming).
"Manufacturing Resilience on the Margins: Understanding Street Gangs Using Property & Vulnerability Theories," 123Penn State L. Rev. 463 (2019).
"Dignity Takings in Gangland's Suburban Frontier," 92 Chicago-Kent L. Rev. 793 (2018).
"From Corpo Economicus to Corpo Sapiens," 55 U. U. Louisville L. Rev. 163 (2017).
"Creating a Babel Fish for Rights & Religion: Defining 'Rights' Through Sacred Texts," 26 Transnational Law & Contemporary Problems 309 (2016).
"Blood In, Buy Out: A Property & Economic Approach to Street Gangs," Wisconsin Law Review 1049 (2015)
"Liberating Sexual Harassment Law," 22 Michigan Journal of Gender & Law 345 (2015)
"Toward A Heterodox Property Law & Economics," 2 Texas A&M Law Review 489 (2015) [invited]
"Individuals, Corporations and the Pedagogy of Citizenship," 63 University of Kansas Law Review 903 (2015) [invited]
"Sex and the Sexy Workplace," 9 Northwestern Journal of Law & Public Policy 88 (2013)
"'Nobody Gives a Damn About the Gypsies': The Limits of Westphalian Models for Change," 9 Oregon Review of International Law 389 (2007)
"Nobody's Perfect (Not Even Close): Reevaluating Access to Justice in the United States and Western Europe," 42 Columbia Journal of Transnational Law 863 (2004)
Selected Presentations
—
"Identity Property and the Limits of the Sharing Economy," Property Works-in-Progress, Northeastern University School of Law, September 20 - 21, 2019.
"Race, Gender, & the Idea of Property," Faculty Colloquium, University of California, Los Angeles School of Law, November 9, 2018.
"The Political Economy of Vulnerability," Manchester International Law Centre (MILC), University of Manchester School of Law, September 19, 2018.
"If Property Were a Black Woman," Lutie A. Lytle Black Female Law Faculty Workshop, Southern Methodist University, Dedman School of Law, July 11-18, 2018.
"Property as Resilience," Inaugural Professor Margaret E. Montoya Scholarship Retreat, LatCrit Living Justice Institute at Campo Sano, May 24-26, 2018.
"The Myth of Autonomy," Faculty Workshop, University of Arkansas School of Law, March 13, 2018.
"Inequity as a Legal Principle," University of Kansas Law Review Symposium, October 20, 2017.
"Identity Property and the Limits of the Sharing Economy," Property Implications of the Sharing Economy Workshop, Penn State Law, October 6, 2017.
"If Property Were a Black Woman," Property Works-in-Progress, Northeastern University School of Law, September 15, 2017.
Grants & Other Funded Activity
—
Memberships
—
Association for Law, Property, and Society; The Law and Society Association; International Law Association (American Branch); American Law and Economics Association