Maria Valesco
---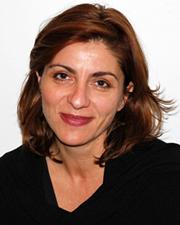 Education
—
M.F.A. University of California, Santa Barbara , 1993
Research
—
Research interests:
Art studies of witchcraft, religion and sacrifice in South America
Teaching
—
EXM 546 Graduate Expanded Media V 
EXM 846 Graduate Expanded Media VI 
EXM 946 Graduate Expanded Media VII 
Selected Publications
—
2003: White, Monica. "Exhibit Features Installation Art." Lawrence Journal-World, May 4, 2003: Arts & Living, p. 4D (photo).
2003: Velasco, María. "3rd Binational Art Exhibition. U.S.-Paraguay." Exhibition Catalogue, Paraguayan-American Cultural Center, Asunción, Paraguay.
2001: Velasco, María. "Real Time Exhibition." Exhibition Brochure, Salina Art Center, Salina, KS.
2001: Canseco, Yurida. "Encuentran Fronteras A La Cultura De La Muerte." El Mundo Al Día, Oct. 27, 2001: Eventos Y Cultura, p. 2D.
2000: Lieberman, Claire. "That Food Thing You Do." Sculpture Magazine, Dec. 2000: p. 50 (photo).
2000: Blaschke, Shirley. "María Velasco: Feminist Art Translation." Artzone, Individual Artists of Oklahoma Newsletter, Sept. 2000 (photo).