NICOLE HODGES PERSLEY
---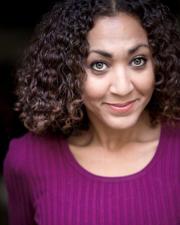 CLAS Associate Dean of Diversity, Equity, and Inclusion Department of Theatre
Associate Professor
CLAS Associate Dean of Diversity, Equity, and Inclusion Department of Theatre
Contact Info
Murphy Hall, room #317

Murphy Hall

---
Biography
—
Dr. Hodges Persley is an Associate Professor of Theatre She teaches courses on Hip-hop, acting, auditioning, African American theater, critical race theory, improvisation, and transnational performance. Dr. Hodges Persley is a professional actor and director with credits in theater, film, and television. She is a member of SAG/AFTRA, AEA Equity, SDC (Stage Directors and Choreographers Society), and the NTC (National Theatre Conference). Notable directing credits include Kristoffer Diaz's Welcome to Arroyo's, Angelina W. Grimke's Rachel, Amiri Baraka's Dutchman, and Dominique Morisseau's Sunset Baby. Hodges Persley creates intentional bridges between the entertainment industry and academia as an artist-scholar. In her work as the Co-Artistic Director of the KC Melting Pot Theater, she helped KCMPT become the primary incubator for black talent in the regional theater scene in Kansas City. She has received numerous awards for teaching and mentoring including KU Center for Sexuality and Gender Diversity Pride Award in 2017, The McNair Scholars Mentoring Award in 2016, KU's Byron T. Shutz Excellence in Teaching Award in 2015, and The Mellon Foundation's Undergraduate Teaching and Mentoring Award in 2008. Dr. Hodges Persley is one of the founding Program Directors for the Hip-hop Archive at Harvard University at the Hutchins Center for African and African American Studies. She completed her Ph.D. in American Studies and Ethnicity at the University of Southern California and is an alumna of Spelman College. She has published articles and book chapters on Hip-hop Theatre, African American Theater, Sampling, Jay-Z, Suzan-Lori Parks with forthcoming work on Black Lives Matter, Drake, and Idris Elba. Her upcoming book, Sampling and Remixing Blackness investigates the influence of Hip-hop on the artistic practices of non-African American theater and dance artists in the United States and England. Publications Link: http://kansas.academia.edu/NicoleHodgesPersley
Research
—
Screen Actors Guild/American Federation of Television and Radio Artists (SAG- AFTRA) Actors' Equity Association (AEA) Stage Directors and Choreographers Society member (SDC) National Theatre Council Board Member IMDB credits: http://www.imdb.com/name/nm1502330/ Publications link:http://kansas.academia.edu/NicoleHodgesPersley Website:www.hodgespersley.com
Research interests:
African-American Theatre and Performance
American Studies
African Diaspora Performance
American Popular Culture
Acting
Hip-hop Studies
Gender Studies
Solo Performance
Transnationalism.
Teaching
—
Teaching interests:
Hip-hop Performance
African-American Theatre
Acting
Directing
Transnationalism
Improvisation
Theatre for Social Change
Critical Race Theory.
Selected Publications
—
Persley, N. (2021). Sampling and Remixing Hip-hop in Contemporary Theater and Performance.
Persley, N. (2015). Sampling as Theatricality. Reading Contemporary Performance: Theatricality Across Genres. Routledge.
Persley, N. (2015). The Cambridge Companion to Hip-hop.
Persley, N. (2014). American Theatre.
Persley, N. (2014). Bruised and Misunderstood: Translating Feminist Acts in the Work of Tyler Perry. Palimpsest Journal.
Awards & Honors
—
<div class="fp-award fp-container"><div class="aca-award">National Theatre Conference-Board Secretary. Received: 12-31-2017.</div><div class="aca-award">Pride Award. KU Student Involvement and Leadership Center. Received: 5-31-2017.</div><div class="aca-award">Phi Beta Kappa. Phi Bet Kappa. Received: 4-30-2008.</div><div class="aca-award">Phi Kappa Phi. Received: 1-31-2008.</div><div class="aca-award">NEA- National Endowment for the Arts. Received: 12-01-2017.</div><div class="aca-award">NEH Grant. National Endowment of the Humanities. Received: 12-01-2016.</div><div class="aca-award">Diversity Leadership Award. The Office of Diversity & Equity. Received: 8-01-2016.</div><div class="aca-award">McNair Scholars Mentoring Award. Center for Educational Opportunities Programs. Received: 1-15-2016.</div><div class="aca-award">Byron T. Shutz Teaching Award. University of Kansas Campus wide teaching award. Received: 11-01-2015.</div></div>