Rafael Acosta
---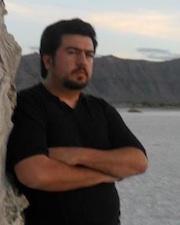 Biography
—
Rafael Acosta grew up grilling under the shade of the Río Bravo's pecan trees. His current research projects involve the political and legal matrices of affect that develop around culturally relevant stories and narrative figures. That or how stories convince us to do (or not to do) things in the political arena. His research interests focus on a notion of Comparative Literature that uses Mexico and the United States (instead of the France-England-Germany axis) as the nexus of meaning that allows for interpretation. He studies the narratives of these countries in conjunction with other European or narrative constructs, for example, studying the kinship of Drug runner ballads and the Illiad, in order to develop a concept of an economy of honor and glory and to examine how literary representations of the Drug Lord develop notions of political legitimacy that belie social contract theories: how the Aeneid and the Trojan's nation building narrative relates to other stateless nations identitary narratives, specifically in the construction of Chicano Aztlán through prison narratives, or how the Cormac McCarthy's nomad dystopias in Blood Meridian help us analyze the dangers of the territory of exception where the judiciary power carries out its functions.
His current book project, Druglords, Bandits, Cowboys and Illegality in the Mexican American Frontier, reflects on how narratives of the frontier provide a political laboratory for the political production of the center, and how these narratives are used to further political goals. He analyzes narrative in literary, cinematic and musical form, referring to works by Américo Paredes, Luis G. Inclán, Clint Eastwood, Rolando Hinojosa, Yuri Herrera, and Cormac McCarthy. Some of his articles are forthcoming on Latin American Research Review, and Comparative Literature amongst other journals
Selected Publications
—
Acosta Morales, Rafael. "Splitting the Colonizer." Comparative Literature, Jan. 2019.Acosta Morales, Rafael. "Ideología y Utopías: Bandidaje, Capital y Consumo En México." Latin American Research Review, vol. 52, no. 3, University of Pittsburgh, 2017, pp. 1–13, https://doi.org/10.25222/larr.104.Acosta Morales, Rafael. "Drug Trafficking, the Lettered City and the Risks of Law." Modern Mexican Culture : Critical Foundations, University of Arizona Press, 2017.Acosta, Rafael. "With No Safety Net: Public Security in the Age of Neoliberal Reforms." Georgetown Journal of International Affairs, Nov. 2016.Acosta Morales, Rafael. "La Narcocultura y La Legitimación de Los Grupos Armados Ilegales." Senderos de Violencia: Latinoamérica y Su Literatura Armada, UNC UP, 2016.Acosta Morales, Rafael. "El Estado y El Caudillo: Reconfiguración de La Legalidad En Trabajos Del Reino, de Yuri Herrera." Latin American Perspectives, vol. 41, no. 2, Sage Journals, Mar. 2014.Acosta Morales, Rafael. "El Cartel Se Funda En Los Huecos Del Estado." Posdata, no. 9, Sept. 2011.Acosta Morales, Rafael. "Operación Bolívar y La Conspiración En La Hiperabundancia de La Información." Revista Iberoamericana, vol. LXXVII, no. 234, 2011, pp. 149–62.Acosta Morales, Rafael. FRONTIER AFFECTS: DRUG LORDS, COWBOYS, AND DESPERADOES IN U.S.-MEXICO BORDER NARRATIVES. University of Notre Dame Press.
Selected Presentations
—
Morales, R. (10/17/2017). Even our police state is outsourced overseas: The Merida Initiative. Chicana Symposium. Topeka KSAcosta, R. (9/29/2017). Pedro Paramo, la ironía y el afecto del fascismo. "Transparencies: Mexican Cultural Production through the Twenty-First Century". Toronto, Ontario